In the UAE and Saudi Arabia, Gen Z and Millennials are shaping online trends with their unique preferences and behaviors. The UAE's Gen Z, potentially around 1.4 million, are tech-savvy digital natives deeply influenced by social influencers, while Millennials, making up 23% of the global population, have a distinct cultural connection in the region. Meanwhile, in Saudi Arabia, both these groups are characterized by extensive mobile usage and an entrepreneurial spirit, with the nation boasting the highest number of Millennial entrepreneurs globally.
As the influence of platforms like TikTok, Instagram and YouTube rises, it's crucial for brands and marketers to tailor their strategies to these demographics. While this article references statistics from specific markets, grasping these concepts is essential for anyone aiming to thrive as a content creator in 2024.
Social media platforms like Instagram and YouTube are increasingly integrating social commerce and live shopping into its platform, with influencers continuing to significantly influence purchasing decisions, particularly among Gen Z. For brands to thrive on these platforms, it's essential to prioritize content discovery and make content the core of their approach.
Here are four key strategies for content creators to dominate in 2024:
Target Gen Z and Millennials with Social Commerce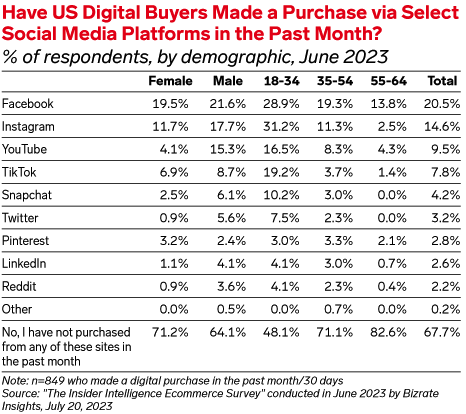 In June 2023, a notable 19.2% of digital shoppers aged 18 to 34 made a purchase on TikTok, according to a study by Bizrate Insights and Insider Intelligence. In contrast, the older demographic tends to gravitate towards Facebook, YouTube, and Instagram for their purchases. The secret to mastering social commerce on TikTok lies in staying updated with its fluctuating trends. Whether it's the rage for maxi dresses today or the sudden spike in interest for a quirky pickle-themed sweatshirt tomorrow, TikTok's regularly updated 'Top Products' list on its Shop feature helps marketers stay in the loop.
Harness the Power of the Algorithm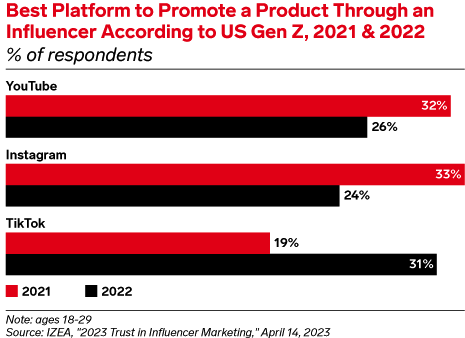 While Instagram might overshadow TikTok in terms of influencer marketing expenditure this year (with Instagram at $1.96 billion and TikTok at $989.6 million, as per our projections), a survey by Izea in April revealed that for US Gen Z shoppers, TikTok remains the top platform for influencer product promotions.
What gives TikTok its edge over other platforms? Its unique and powerful algorithm. As noted by analyst Sky Canaves in a recent "Reimagining Retail" podcast episode, "The beauty of TikTok lies in its algorithmic nature, where even a micro-influencer or an average user can achieve viral fame. Such widespread reach makes them invaluable assets for brands."
Dive into the World of Livestreaming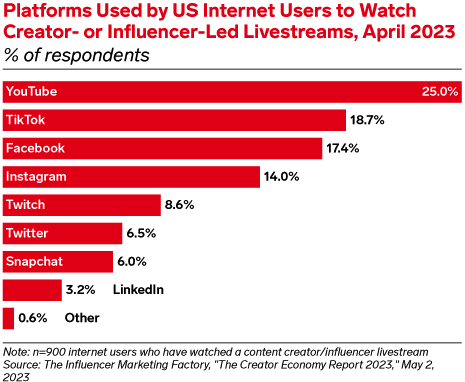 TikTok ranks just behind YouTube as the go-to platform for US netizens to view influencer-led livestreams, as per a report from Influencer Marketing Factory in May. Even though live shopping is yet to become a staple in the US, giants like Amazon and Poshmark are already exploring its potential.
For brands eager to venture into livestream commerce, TikTok is a promising starting point. Much like YouTube, TikTok influencers boast of loyal followers more inclined to make purchases. With the integration of a live shopping tool in TikTok Shop, the platform is streamlining the process for sellers and creators to monetize their live events.
Your competition is not just Other Creators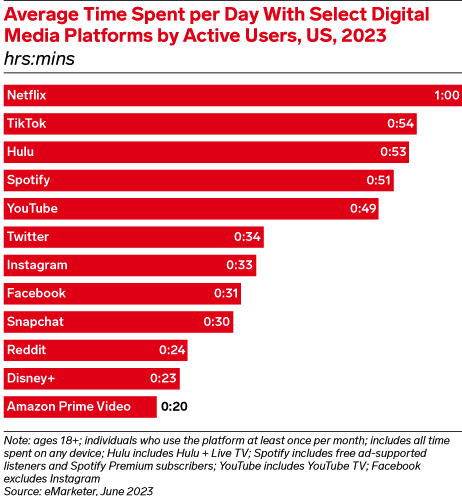 On average, active TikTok users dedicate 54 minutes daily to the app, which is almost on par with the time spent on streaming giants like Netflix and Hulu. Brands on TikTok must decode the reasons behind such prolonged user engagement, from seeking entertainment and shopping inspiration to discovering life hacks. It's imperative for brand content on TikTok to resonate with the broader platform trends while being genuine and captivating.
The insights provided by these four graphs offer a roadmap for brands and marketers aiming to make a significant impact in 2024. As the lines between content creation, e-commerce, and social influence continue to blur, it's essential to stay informed and agile. By leveraging these insights and tailoring strategies to the dynamic preferences of audiences, especially in regions like the UAE and Saudi Arabia, businesses can position themselves at the forefront of the next wave of digital innovation.
Bassam Mustafa – Managing Director, Nine71